SECURE BORDERS COALITION
Adopted May 11, 2010
We, the undersigned, oppose so-called "comprehensive" immigration reforms, any and all amnesties of illegal aliens, and any expansions of guest worker visas like those incorporated in the provisions of HR 4321, the
Comprehensive Immigration Reform for America's Security and Prosperity Act of 2009
, also known as the
Comprehensive Immigration Reform ASAP Act of 2009,
or the
CIR ASAP Act of 2009
, generally referred to by its principal congressional sponsor as the Gutierrez bill.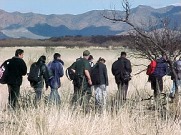 HR 4321 is the worst immigration legislation yet concocted. The Gutierrez bill effectually grants no-strings-attached amnesty to EVERYONE present inside the U.S. on the day it is signed into law -- thus burdening our nation with aliens already unlawfully here, while inevitably provoking an unprecedented rush of still more illegal aliens across our nation's borderline while the measure is being publicly debated and considered by Congress.
Rep. Gutierrez's legislation is "many amnesties" rolled into one monstrosity of a bill. It comprises, and reprises, the DREAM Act amnesty; the AgJOBS amnesty; an amnesty for the parents of "anchor babies" (an enormous proportion of the illegal population); an amnesty for the children of Filipino WWII veterans; and an amnesty for children of an alien fiancee/fiance or of an alien spouse of a U.S. citizen.
It redefines "child" to include a stepchild under 21 years old; amends and expands the Haitian Refugee Immigration Fairness Act of 1998; reduces the required support level for immigrant sponsorship; establishes the vast "Prevent Unauthorized Migration Visa" (PUM Visa) program which shall provide for: (1) 100,000 PUM conditional permanent resident visas annually, for three years, to persons from ALL countries which represent at least 5% of the total unauthorized migration population to the United States for the past five years, and (2) a process to adjust to permanent resident status; exempts specified categories of U.S.-educated aliens from employment-based immigration limits; permits a nonimmigrant alien whose employer has petitioned for an employment-based green card for such alien to file an application for adjustment of status regardless of whether an immigrant visa is immediately available -- just to list some of its countless special amnesty and exemption provisions.
The bill has been sardonically dubbed the "No Illegal Alien Left Behind" Act, but the joke is tragically on We, the American People -- who will suffer the devastating consequences should this terrible bill be passed. In addition to touching off what promises to be an inundating flood of new illegal aliens across our borders, north AND south, this horrendous bill will:
Reduce effective border security,
Abolish all local and state immigration enforcement,
Weaken federal enforcement,
End "E-Verify," the employment verification system.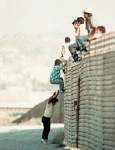 Instead of creating physical border fence and barriers, or adding additional U.S. Border Patrol agents and their much-needed enforcement support, the bill explicitly "prohibits military involvement in non-emergency border enforcement" and establishes "the U.S.-Mexico Border Enforcement Commission and a Border Communities Liaison Office to foster and institutionalize community consultation" -- nothing less than a means for Hispanic-dominated communities and Mexico's government to obstruct effective United States border enforcement.
It actually repeals an on-going program that allows states to partner with federal officials to crack down on criminal aliens -- thus nullifying successful laws in states like Arizona and Oklahoma.
In addition to completely banning any state-level enforcement, the bill will bar any immigration raids at churches, schools and designated "community" locations. It also prohibits any detention of illegal aliens if it will "separate families" -- despite the fact that mass emigration continues to aggravate a social crisis of "deadbeat dads" from Mexico, that exacerbates the current disfunctionality and criminality rampant in Mexican society, and increases the impact of neglect on both Mexican and U.S.-located families, which will only be felt when this generation of fatherless children reaches adulthood.
HR 4321 creates a new, untested, more invasive, cross-agency employment verification system that trumps the existing E-Verify policy.
This bill is a legislative abomination on countless levels of United States national security, sovereignty, public safety, and prosperity -- as well as constitutional integrity. But in principle, any form of amnesty is wrong for America because it:
Violates Congress' firm 1986 pledge that its amnesty for millions of illegal aliens would NEVER be repeated;
Rewards law-breaking and effectively punishes immigrants who are lawfully "waiting in line."
Makes the United States less secure, tempting terrorists, criminals and other undesirables to take advantage of a chaotic amnesty process;
Invites massive fraud when millions of new "citizens" of unconfirmed identities file false claims likely to go undetected by an overwhelmed bureaucracy;
Promotes a new wave of illegal migration as relatives arrive and "go underground" in the expectation that yet another amnesty will follow;
Imposes enormous new cost burdens on already overwhelmed local communities, as millions of relatives crowd public schools, hospitals, county jails and other public and safety services.
Twice before our nation enacted amnesty as a solution to problems caused by federally-sanctioned illegal immigration. The 1986 amnesty to at least 2.7 million aliens only caused more people than ever before to enter the U.S. Somewhere, somehow our elected officials must learn from past mistakes.
The Heritage Foundation estimated in 2006 that the "comprehensive reform" Senate bill then under consideration would bring in at least 60 million foreigners during the next 20 years.

If the demographics of the so-called temporary workers are similar to those of the illegal aliens already here, more than half will be high school dropouts. They will work low-paying jobs that require payment of little or no income tax. They will be 50 percent more likely to receive government benefits than those in non-immigrant households. And 42% of their children will be born out-of-wedlock — but all their children born in the U.S. will automatically become American citizens.
The cost of the Senate amnesty proposed for illegal immigrants alone was estimated in 2006 to be $50 billion a year for entitlements, including Medicaid, Social Security, Supplemental Security Income, Earned Income Tax Credit (cash handouts as much as $4,400 a year to low-wage households), the WIC program, food stamps, public housing, Temporary Assistance to Needy Families, and federally funded legal representation.
Any amnesty would move America toward a future like France, which is staggering under the entitlement burden of "guest" workers who never went home.
"Comprehensive immigration reform" legislative schemes all promote three main features that, together, will cause the illegal immigration problem to reach critical mass: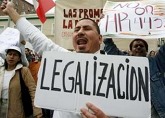 AMNESTY: The proposals grant legalization for 85% — to 100% of the nation's current illegal aliens. These bills repeat the mistakes of the Simpson-Mazzoli amnesty bill of 1986. It also provides an amnesty for employers who have hired illegal immigrants.


PERMANENT "TEMPORARY" WORKERS: The proposals sets up vast expansions of "worker visa" categories and exemptions, or so-called "temporary guest worker" plans for individuals who will be here neither temporarily nor as guests. The so-called guest workers will be given new visas that they can convert to legal permanent status with green cards. They will be fast-tracked for eligibility to become U.S. citizens.


FAMILY CHAIN MIGRATION: The number of unassimilated immigrants will grow and accelerate as "family chain migration" allows more new residents to rapidly bring in more and more relatives. The "worker visa" recipients can and will immediately bring in their family members on the ubiquitous H-4 visas, without any health requirements, and they will also get permanent legal residence and citizenship. [Note: An H-4 visa is a visa issued by the U.S. Citizenship and Immigration Services (USCIS) to immediate family members (spouses and children under 21 years of age) of H visa holders (H-1A, H-1B, H-2A, H-2B, or H-3)].

After the so-called temporary workers and their spouses become citizens, they can bring in their parents as permanent residents on the path to citizenship. Although the parents have never paid into Social Security, they will be eligible for Medicaid and Supplemental Security Income benefits. Siblings and adult children and their families will be given preference in future admissions.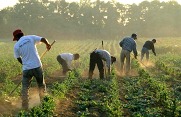 In addition, "comprehensive reform" proposal have inequitably offered so-called temporary workers preferences that American citizens do not enjoy. They can't be fired from their jobs except for cause. They must be paid the prevailing wage. They can't be arrested for other civil offenses if they are stopped for traffic violations. Also, these illegal aliens are forgiven two years in back taxes, something the IRS would never do for American citizens.
Previous bills proposed to grant in-state college tuition (something that is denied to U.S. citizens in 49 other states), plus certain types of college financial assistance to illegal immigrants. As minorities, they were to even get "affirmative action" preferences in jobs, government contracts, and college admissions. Even more outrageous, the Senate bill of 2006 ceded American sovereignty by requiring the United States to consult with the Mexican government before building a border fence.
By flooding this country with so many immigrants — legal and illegal — controlling our immigration will become impossible, and by dumping that burden onto an already-overburdened system of government benefits, these proposals are a threat to the future of the United States. They must be defeated.
THEREFORE, WE THE UNDERSIGNED DO PETITION CONGRESS, AND SOLEMNLY PLEDGE —
That since passing no bill is far better than passing any new amnesty, legalization, guest worker, or foreign worker program of any kind, we PETITION CONGRESS to HALT all such proposals and SECURE THE BORDER, NOW

We PETITION for INCREASED AND EFFECTIVE federal border security and immigration law enforcement NOW. We favor a policy of attrition of the illegal population through strong enforcement of our nation's immigration laws, which includes, first and foremost, the physical securing of our borders.
We PETITION both Houses of Congress to heed the American people and reject the Gutierrez bill, and any other bill that provides amnesty provision or legalization of illegal aliens, or substantial increases in legal immigration or expansion of "worker" visa programs.
Further, we the undersigned PLEDGE to withhold political support from any Member of Congress who advocates, supports or votes for such legislation.
Finally, we PLEDGE to dedicate ourselves to defeating any candidate for election or reelection of office who supports the Gutierrez bill, or any other bill that provides legalization of illegal aliens or substantial increases in legal immigration.
We PLEDGE to do so regardless of political party and in both the primaries and the general election.
View Secure Borders Coalition's 2006 declaration